Powder " U" Shape Spiral Vibration Feeder
Powder " U" Shape Spiral Vibration Feeder

Guangdong China
Powder "U" shape spiral vibration feeder with the previous two feeding machine principle is the same, the only difference is that the "U" type feeding machine is more suitable for the throughput is large and goods packaging weight is large of the machine and the situation.
"U" shape feeding machine can be opened the outer tube, so that it is more convenient to clean, can also be observed at any time the operation of the screw.
Powder " U" Shape Spiral Vibration Feeder
Selling point:
1、 national standard seamless tube, with good rigidity, flexible working state, good sealing performance, no dust leakage, reliable safety performance.
2、large throughput, convenient operation.
3、the machine structure is simple, easy to install, easy to adjust, simple maintenance and protection.
4、Adopt brand bearing and motor to guarantee work efficiency and high quality.
5、easy to disassemble and install, food grade 304 stainless steel, 316 can be customized, installation size can be customized.
6、The feed tube can be opened horizontally for easy inspection of the screw and cleaning of the feed tube.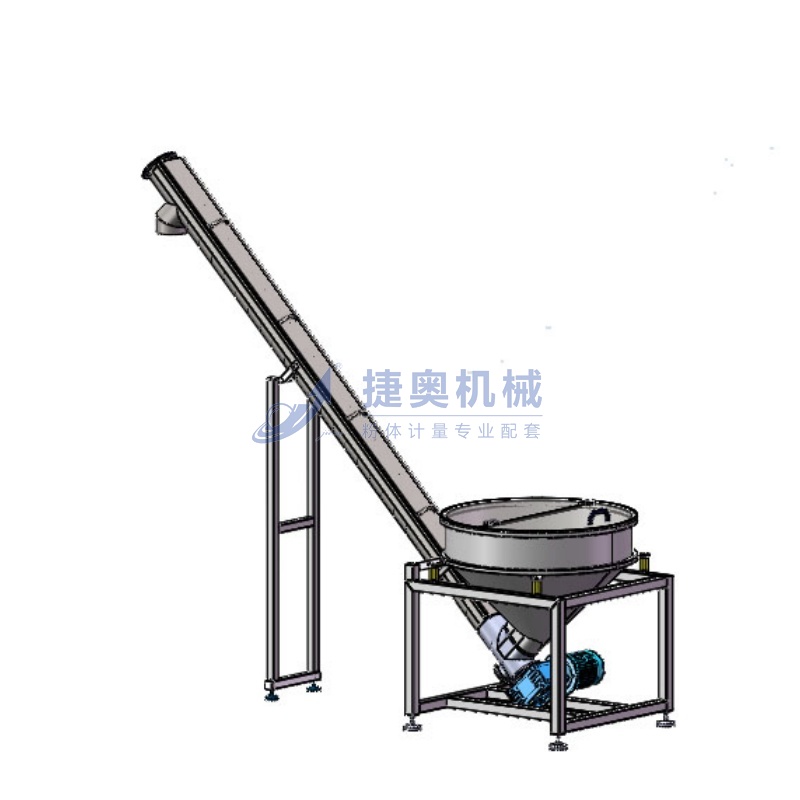 Equipment Brand:
| | | |
| --- | --- | --- |
| Name | Brand | Country |
| Servo Motor | Schneider | France |
| Servo Driver | Schneider | France |
| Material Photoelectric Sensor | Autonics | Korea |
| Mixing Motor | YK | TaiWan,China |
| PLC | Mitsubishi | Japan |
| Frequency Changer | Yatai | ShangHai,China |
| Color Label Optoelectronic | Beideli | TaiWan,China |
| Temperature control meter | Yatai | ShangHai,China |
| Transverse sealing cylinder | Airtac | TaiWan,China |
| Longitudinal sealing cylinder | Airtac | TaiWan,China |
| Cutting knife cylinder | Airtac | TaiWan,China |
| Electromagnetic valve | Airtac | TaiWan,China |
| Triplet | Airtac | TaiWan,China |
| Auxiliary relay | Omron | Japan |
| Solid-state relay | Schneider | France |
| Push button stop switch | Schneider | France |
| Start button | Schneider | France |
| Stop button | Schneider | France |
| Film closing switch | SHFG | ShangHai,China |
| Square close switch | SHFG | ShangHai,China |
| Film discharging motor | JiangSheng | GuangDong,China |