rotary bag feeding packing machine
Rotary bag feeding packing machine

Guangdong China
Feeding bag automatic packaging machine is an advanced equipment which can directly replace manual packaging in automatic production.The automatic bag packing machine adopts the most stable CAM mechanical transmission technology in the world, so that the packaging machine can realize the functions of self-detection, information feedback and so on.
It is suitable for packaging flour, seasoning powder, milk powder, glucose powder, chemical powder, medicine, fertilizer, etc. It can be packaged into self-supporting bag, flat bag, PE bag, corner bag, zipper bag, etc.
Rotary bag feeding packing machine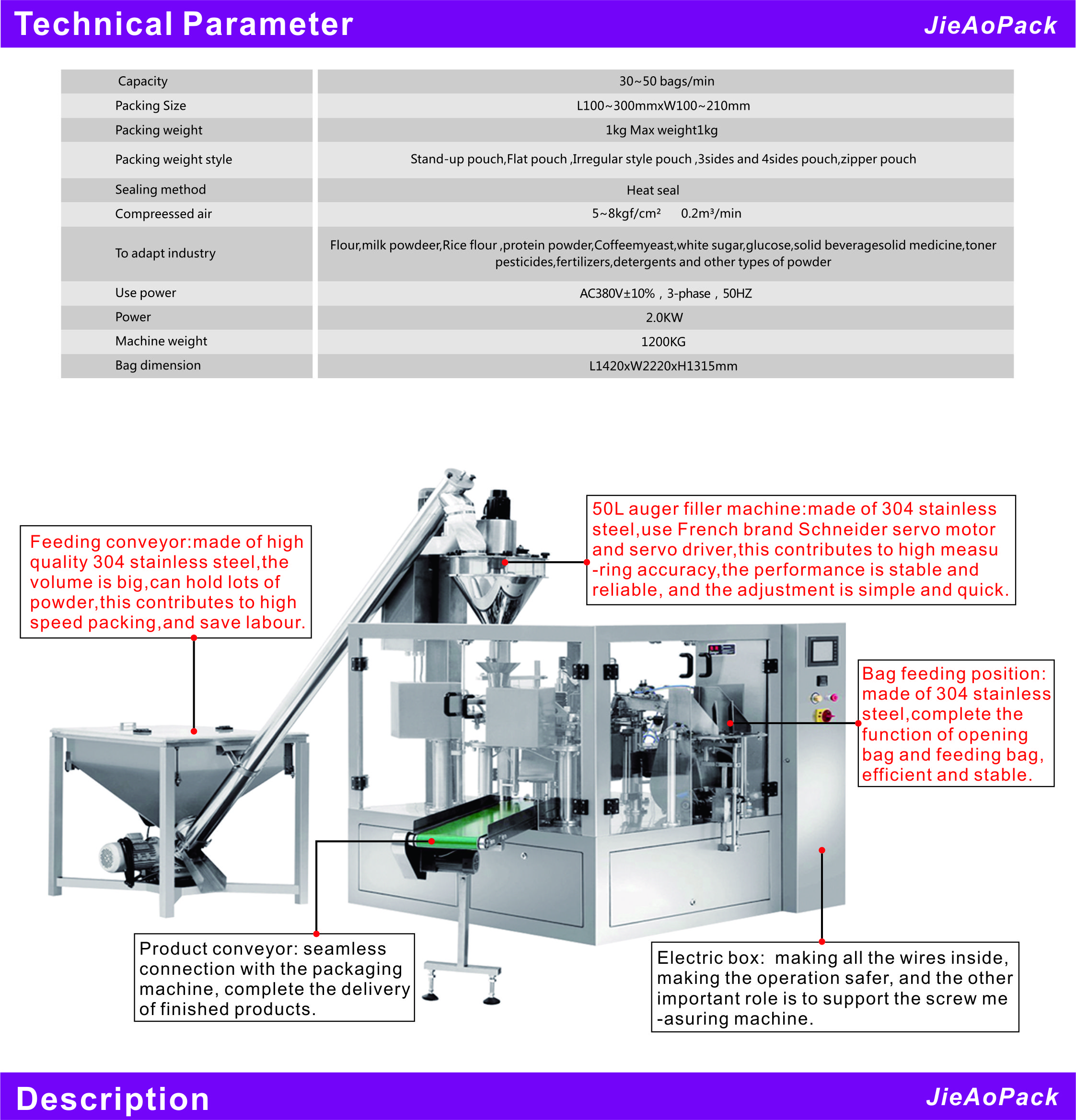 Feeding bag packaging machine takes place of manual packaging, the packaging automation for large enterprises, small and medium scale enterprises, as long as the operator will do a good job in a bag, disposable bag in the bag will be hundreds of equipment, mechanical equipment will automatically take grab bag, print date, open the bag to signal measuring and metering device, feed, sealing, output. Customers can also add detailed functions such as door opening, emergency stop, auto throw card and abnormal discharge according to product packaging needs. No manual work is needed in the whole process of packaging, which effectively improves production efficiency, saves labor cost and management cost, and greatly reduces cost.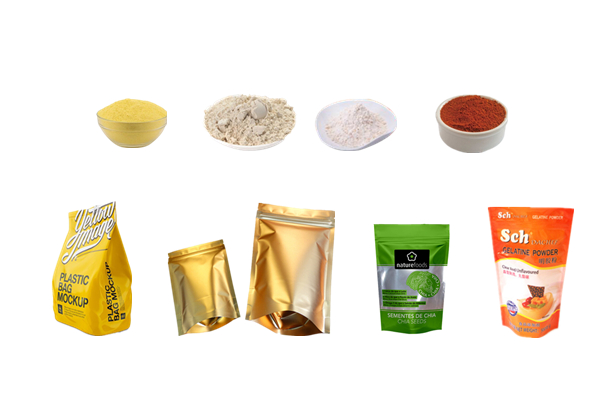 About JieAo
FoShan JieAo Packaging Machinery Co., Ltd. is the highest cost performance company in China for the field of screw dosing machine. JieAo has focused on the design and manufacture for powder dosing, screw feeding and the material transfer for more than 15 years. JieAo has more than 20 models for screw dosing machines and vibrating screw feeders. We focus on sub-supplying the vertical packaging machine, bags packaging machine, oriental packaging machine and all kinds can filling machine for powder to the packaging machinery manufacture. Our equipment is widly used in the field of food, chemical, agricultural chemical, daily used chemical and metallurgy.
" JieAo" packing machines have been inspected by national authorities as safe-quality products .In 2006.it has been approved by IS09001:2000 with its advanced design,precise manufacturing.Stable performance and convenient operation. "JieAo" is undergoing ceaseless development in the competitive market and now has its sales and service cover more than 10 countries in south- America,Southeast Asia, Europe and Middle East.Later in 2006,the company has also obtained" CE",which assures our products to take up a part of the market share in European Union.